Historical perspective of the Devdasi tradition
Devdasi, meaning servant of god, is a system where young girls (mainly of dalit community) are dedicated to a local deity – Goddess Yellamma (Renuka). This system is mainly prevalent in parts of South Maharashtra and North Karnataka. The girls are dedicated to Goddess Yellamma before they attain puberty. 99% of them belong to poor Dalit Communities. Once a girl is dedicated, she is not expected to marry and participate in certain socio-religious rituals of the local community is believed to be binding upon her.
The significant factors leading to dedications are traditional beliefs and values and to a much lesser extent economic factors. Many of the ex-Devdasis, who are first generation Devdasis, believed that they were dedicated for a number of reasons. These include: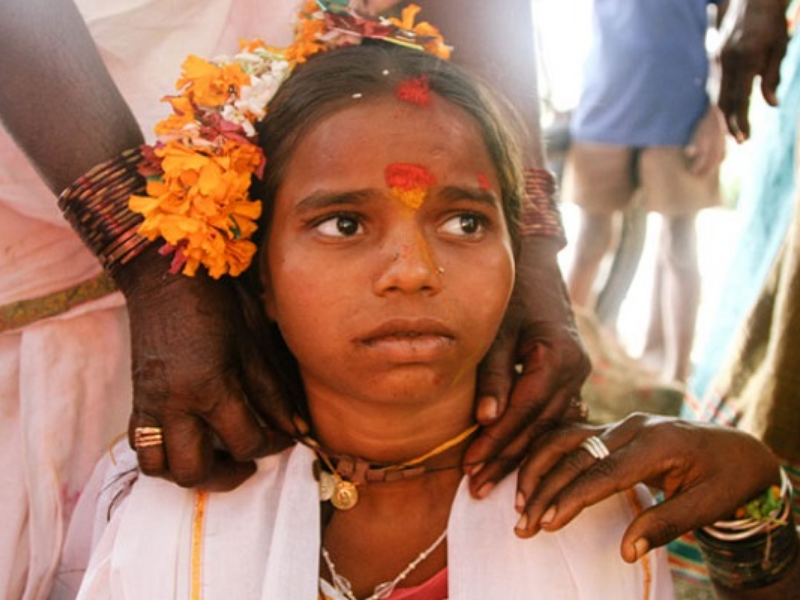 Parents did not have any son to take care of them during old age

As a child they or someone in their family were not keeping good health (Skin diseases)

Due to loss of crop or any other difficult situation faced by the family

The family had deity (Jaga) – Goddess Yellamma

To bring in rains and have good harvest for the village

They had matted hair which indicated that goddess Yellamma wanted dedication
Local men have always sexually exploited these Devdasis. The pimps and brothel keepers from cities pressurized them and lured them into commercial sex activities. Around 30% of Devdasis have migrated to the red light areas of Mumbai, Goa and other cities.
Most of the Devdasis however, have relationship with one patron (called Maliks or masters). At times, they are married to their patrons, which of course is illegal. The marriage does not have any legal sanctity as most of the patrons are already married or enter into a legal marriage with social approval of communities. Most of the community dedications in Belgaum district initially used to take place at Yellamma Temples of Saundatti and Kokatnoor in Belgaum District. After enacting of the Act, dedications have shifted to inconspicuous village temples or to homes to escape policing.
Though many of the Devdasis have been mainstreamed, a few are still continuing covertly with commercial sex activities. In Modern times, dedication to the Goddess or God is justified on the following grounds:
.

If the parents were childless, they vowed to dedicate their first child if it happened to be girl.

If there were no sons in the family, the girl child was dedicated and could not marry as she becomes a 'son' for the family (earning the family's livelihood).
Yet another economic reason contributed to the dedications. If the girl's family had some property, the family ensured that it stayed within the family by turning the girl into 'son' by dedicating her.
Ms Airavathi Mang challenged her life as a Devdasi by becoming a role model in her community in India. She is now the leader of our Everychild programme to preventing Devdasi child marriages. The ancient Devdasi practice sees young girls in India 'married' to a deity. Traditionally Devdasis had high status but the practice has degenerated and now the girls are expected to sell their bodies at puberty. Ms Airavathi Mang has invited UK to talk about her personal journey and the work she is doing as part of the MASS project to stop the continued practice of Devdasi & child marriages. Ms Airavathi R Mang has been selected as one of EveryChild's UK's 10 award winners, the work she have been doing with children without parental care across the world.